Listen up, people.
Whether your friends want to believe it or not, but crockpots are not just for Mommom anymore. Yes, my crockpot does have a blue flower pattern around it that looks like it was a popular wallpaper in the 70's, but whose to judge?! These pots of wonder make the most delicious meals I've ever consumed.
Not only are they like music to my taste buds, but they are so unbelievably easy. So all of you who think this isn't for you because you aren't a natural born cook, continue reading.
When I became vegan, I thought I was up for a challenge. Luckily, it was starting to get cold out, so I brushed the dust off of my crockpot and got to experimenting. Immediately, I discovered my favorite thing about crockpots. I mixed the ingredients together the night before and threw them in the crockpot in the morning before I left for work. Not only was dinner cooked and ready for me when 5oclock hit, but the aroma in my house was unlike anything I have ever smelled! Goodbye Yankee Candles!
While none of the recipes I tried failed, some rose above all of the rest. As Fall came and left, I became Pinterest's favorite visitor and compiled my most requested vegan crock pot meals just for our viewers!
INGREDIENTS:
• 1 cup uncooked quinoa, rinsed thoroughly
• 2 (14.5-ounce) cans petite diced tomatoes
• 1 (15-ounce) can Great Northern beans, drained and rinsed
• 1 onion, diced
• 3 cloves garlic, minced
• 1/2 teaspoon dried oregano
• 1/2 teaspoon dried basil
• 1/4 teaspoon dried rosemary
• 1/4 teaspoon dried thyme
• 2 bay leaves
• 4 cups vegetable broth
• Kosher salt and freshly ground black pepper, to taste
• 1 pound kale, coarsely chopped
DIRECTIONS:
1. Place quinoa, tomatoes, beans, onion garlic, oregano, basil, rosemary, thyme and bay leaves into a 6-qt slow cooker. Stir in vegetable broth and 2 cups water until well combined; season with salt and pepper, to taste.
2. Cover and cook on low heat for 7-8 hours or high heat for 3-4 hours. Stir in kale until wilted.
3. Serve immediately.
INGREDIENTS
• 6 oz soy chorizo (optional)
• 1 green bell pepper
• 1 cup okra
• ½ onion
• 3 celery ribs (about 1½ cups)
• 2 cloves garlic
• 1 16-oz can diced tomatoes & green chilis
• 1½ cups vegetable broth
• ½ tsp paprika
• ¼ tsp salt
• ¼ tsp ground black pepper
• ¼ tsp cayenne pepper
• 3 cups cooked cilantro rice
INSTRUCTIONS
1. Begin by cooking the chorizo in a skillet on medium-high heat. Let simmer until brown, then place in the crockpot.
2. Next, dice the bell pepper, okra, onion and celery, and mince the garlic. Add all these veggies to the crockpot, then pour in the diced tomatoes and vegetable broth.
3. Add the seasoning and give the vegetables a nice stir.
4. Cook on low for 4-6 hours or on high for about 2 hours (I like my veggies to still have a little crunch).
5. Mix in the cooked rice and…. laissez les bons temps rouler!
Chickpea Balls In Marinara Sauce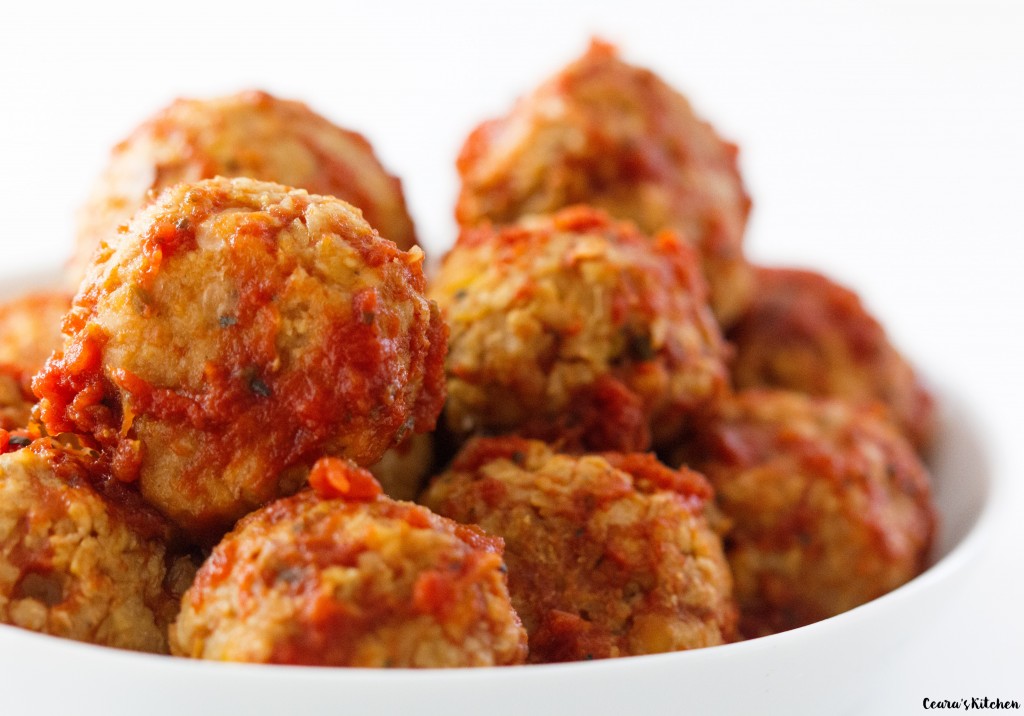 INGREDIENTS
• 1 tablespoon coconut oil, plus more for baking sheet
• ¼ cup white onion, diced small
• 2 (15-ounce) cans chickpeas, drained and rinsed
• ½ cup whole wheat flour
• 2 teaspoons sea salt
• ¼ teaspoon freshly ground black pepper
DIRECTIONS
1. Preheat the oven to 350°F. Lightly grease a baking sheet with coconut oil.
2. Heat the coconut oil in a medium-size skillet over medium-high heat.
3. Add the onion and sauté for about 10 minutes. Place in a food processor along with the chickpeas, flour, salt, and pepper.
4. Pulse until combined but still chunky. Do not turn it into a puree.
5. Roll into 48 balls and place on the prepared baking sheet.
6. Bake for 30 minutes, turning once halfway through.
7. Serve with the hot marinara sauce.